03-31-2009, 10:40 PM (This post was last modified: 05-01-2009, 11:07 AM by linearinduction.)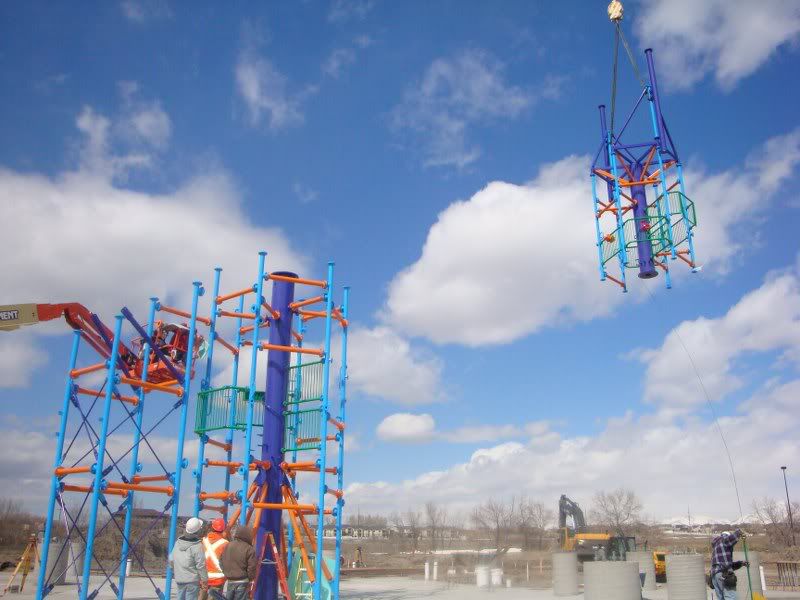 Photo Courtesy Cowabunga Bay
Hello Everyone,
I'm happy to report that as of Monday, Cowabunga Bay has gone Vertical! The First sections of the Giant Water Play Structure were placed on the Splash Pad yesterday and the Layout for Cowabunga River, the 400ft Long Lazy River, has been excavated. Shane also posted some of his own photos on the ThemeParkReview.com Forums which you can check out and Special Thanks to Shane from Cowabunga Bay for the Exclusive Photos.
Click
HERE
to check out the Construction Update and Exclusive Photos on the Cowabunga Bay Construction Blog.
- Sid
Cowabunga Bay Construction Blog: The Unofficial Blog of Cowabunga Bay
cowabungabay@yahoo.com
Notice: Cowabunga Bay is a New Value Based Neighborhood Water Park Concept Developed by Huish Entertainment Group (HEG). Cowabunga Bay is located off I-15 near 12300 South in Draper, Utah.
DISCLAIMER: This post contains my own personal views and opinions and do not reflect the views and opinions of any Company or Organization. Furthermore, I do not purport to speak on behalf of any Company or Organization and it's views or opinions.
Coaster Credits: 99
No. 1 Steel Coaster: Cannibal, Lagoon Park 
No. 1 Wood Coaster: The Beast, Kings Island